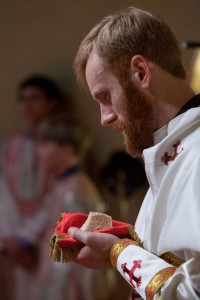 The loss of Fr Matthew Baker to our small Fellowship is inestimable. He was for me, personally, one of the great hopes for articulating the theological vision that we try to articulate here at the Fellowship. He was also one of my closest friends. His scholarship, priesthood, and friendship will be missed by us. More importantly he will be missed by his wonderful widow and his incredible children. Our Church has suffered greatly in losing this incredible man.
Please join us in mourning him and praying for the repose of his soul.
Please if you can help his family with a monetary donation.
Who Fr Matthew was has been captured very well in Fr. Andrew's post here, "We need more Spiritual Brothers" and by Heirodeacon Herman here, "The Life of Fr. Matthew Baker is a Triumph of Orthodoxy".
We have an incredible inheritance to live up to in the work that Fr. Matthew left for us. Let us be found worthy of this calling.